LinkExchange Member

Lois and Clark
The New Adventures of Superman
Home for the FOLCs!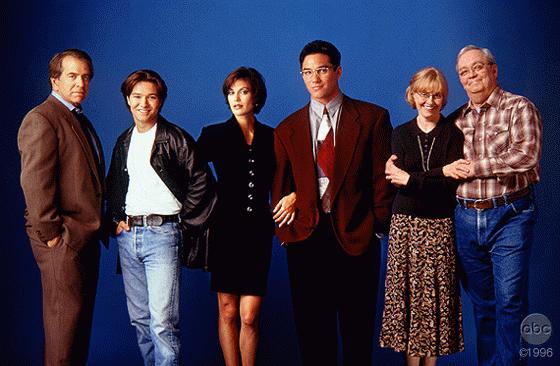 ---
ATTENTION TO ALL!!!ABC has decide to renig on their contract to bring Lois and Clark back for a fifth season. So starting in September, when all other shows are starting back up, Lois and Clark season preview will not be seen. We still have 3 more episodes left in this current season, but I'm not sure on when they will be shown. Right now, I'm going through depression knowing that my favorite show isn't going to show new episodes. Now is the time to come together for a good cry and to reminice about our favorite couple. For anyone that just want to talk about the show and everything that has gone on, please email me and we'll talk about the good old days.
I've been watching "Lois and Clark: The New Adventures of Superman" since it started in September of 1993. I was hooked from the very beginning. I mean, I've watched the "Superman" movies with Christopher Reeves and Margot Kidder. I loved watching them. Then I hear about this 90's version of Superman and I'm thinking to myself that this just might be cool. When I watched that pilot episode, I noticed a farmboyish guy that was "super" cute and a vigorous female reporter. I just cannot get enough of the show. I get LCWS every summer and times that they take it off for a month. I'm one of the many that take gutter trips every other episode. I'm one of the proud, one of the many, one of the FoLCs!!
---
Cast
Clark Kent/Superman.............Dean Cain
Lois Lane........................Teri Hatcher
Perry White......................Lane Smith
Jimmy Olson.....................Justin Whalin
Martha Kent.......................K Callan
Jonathon Kent...................Eddie Jones
The cast has also changed over the 3 and a half seasons. The 1st season held Michael Landes as the first Jimmy Olson, John Shea was Lex Luthor, and Tracy Scoggins as Cat Grant. Chris Demetral, as Jack, was in the last few episodes of the 1st season.
Quite a few people kept showing up within and throughout the seasons. Some of these people are Farrah Forke as Mayson Drake, Sal Viscuso as Bobby Bigmouth, Jim Pirri as Dan Scardino, Olivia Brown as Star McAdams, Tony Jay as Nigel St. John, Denise Crosby as Dr. Gretchen Kelly, Kenneth Kimmons as Dr. Klein, Peter Boyle as Bill Church Sr., Bruce Campbell as Bill Church Jr., Jessica Collins as Mindy Church, and Lane Davies as Tempus.
There have also been guest stars that come back as two different characters. Leslie Jordan played Alan Morris in "I'm Looking Through You" and William Wallace Webster Walldecker in "A Bolt Out of the Blue."
Characters have also been brought back, but different people have played them. Lucy Lane has been played by Elisabeth Barondes and Roxanna Zal. Dr. Sam Lane has been played by Denis Arndt and Harve Presnell. Ellen Lane has been played by Phyllis Coates (the orginal Lois Lane) and Beverly Garland.
---
to Dean Cain for making it all the way to the finals for the Tournament of Hunks contest. He is the Television Regional winner after beating the next Caped Crusader, George Clooney. Next DC was up against the Sports Regional winner, Pete Sampras, and won that round by a big margin. For the finals it came down to Jon Bon Jovi v. Dean Cain. (Bon Jovi beat out Tom Cruise, which I still can't believed happen!) I guess it came down to the wirer for the finals, but our beloved Clark Kent lost out to Bon Jovi by a close margin. Bon Jovi won by at least 10 votes. They better have this competition next year, so DC can have another chance at the finals.
---

Right now here is a list of links to get this page started:
Are you a DOCK or an IWWATFTDCIDDGWIHOA or are you PATHETIC?? Do you get WAFF or LCWS at times?? Well to find out the meanings to these certain acronyms and others go to the Lois and Clark Acronym List. It will give you another language to learn.
How can you tell that you might be a FoLC? Do you go along with it to be like everybody else? Well, You Might Be a FoLC If... will help you come to that important decision.
---

Listed below are my favorite quotes throughout the first three seasons:
---
---


This page was last updated on April 13, 1998.
This page is a copyright©1997 Karin Tessin. All rights reserved.
All Lois and Clark pictures used on my LnC pages were borrowed from Barb's Video Capture Site and Hyperions's FTP Site.
---
Webrings I belong to:

This Dean Cain Webring site is owned by Volley.

Click for the [ Skip It | Next 5 ]

Want to join the ring? Click here for info.